Distributors no longer simply sell products they are also required to provide product support and even marketing.
A big part of the agreement will be coordinated marketing and sales initiatives. This is where the microsites come into play.
As will as listings of APEM switch products held in-stock by RS, there will be promotional and support material such as application notes and supporting technical information.
According to Eric Plantié, corporate deputy general manager, the online distributor plays "a vital role for APEM in helping to create demand" for its components.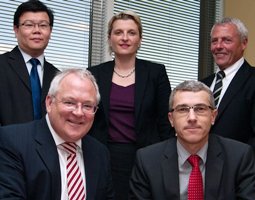 Pictured in the signing photo are: back (l to r) – William Tan, product manager – RS, Asia-Pacific; Valerie Ramon, category business manager – RS, electro-mechanical and connectors; Roy Harris – APEM, sales manager.
Sitting (l to r) – Chris Page, general manager – Electronics, RS; and Eric Plantie, corporate deputy general manager – APEM.