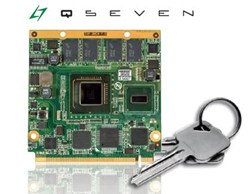 Welcome to a post in the new series
COMs Insider
by Bob Pickles, Congatec UK territory manager.
The PC/104 form factor is a very well established embedded computer specification which was first published in 1982 by the PC/104 Embedded Consortium. The specification has since been regularly updated and is freely available from www.pc104.org. With a market totalling $262 in 2008, it remains widely popular.
The Qseven standard is a relatively new module concept for ultra-mobile applications (see www.qseven-standard.org for more detailed information and to download a copy of the free specification). Measuring 70mm x 70mm, the Qseven form factor contains a complete PC on a module, featuring Intel Atom Z5xx and E6xx series processors.
The Qseven module concept is derived from Computer on Module technology, but here the module has no I/O connectors. These are provided on a customer carrier card or baseboard, instead. Sounds like a complicated affair, but it does really save costs when building hundreds or thousands of units.
The Qseven module is scalable, which means that there is a selection of Qseven modules available that are pin compatible, offering different levels of Total Design Power (TDP) and performance. This scalability allows system builders to create a range of products with different performance levels, as well as system components such as additional RAM and on-board Solid State Drives to enable really compact embedded solutions.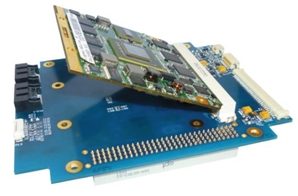 A really interesting development is a Qseven PC/104 Express carrier card design by Connect Tech of Canada hosting a congatec Qseven module. The carrier card meets both PC/104 Express and Qseven specifications, bringing Qseven technology and benefits to the PC/104 embedded world.
This is a fairly new design which provides all of the Qseven I/O on the PC/104 carrier. A current flaw in the ointment of this design is that the more connectors are used, the more expensive the design, but they are aware of this and are working toward providing a range of carriers to suit developers and final production equipment.
The combined Qseven PC/104 technology has a number of benefits over traditional PC/104 processing systems in that it features low power Intel Atom processors based on the Z5xx and E6xx series. The Intel Atom E6xx is a next generation processor with memory, audio, video and PCI Express facilities on the processor, providing much better software processing performance, especially with super fast PCI Express connection from the processor to the Intel G20 IO Hub chipset.
Video performance from the Z5xx to the Intel Atom E6xx processor has had a remarkable 50% performance boost, seven year availability of chipsets and industrial operating temperatures from -40 to +85 deg C, highlighting a real commitment by Intel to the embedded market.
So add in RAM and SSD soldered on board, the Qseven on PC/104 Express form factor with legacy free interfaces is an embedded solution not to be overlooked.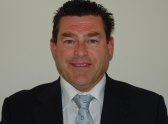 Bob Pickles, Congatec UK territory manager. Contact Bob.Pickles@congatec.com (Tel: 01424 846915).