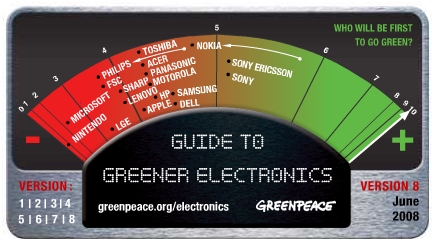 In the 8th edition of its Guide to Greener Electronics, only two companies – Sony Ericsson and Sony – score above 5 out of 10. (Click to expand the graphic)
The reason for the decline? Greenpeace has tightened its requirements on electronic waste and toxic chemicals. Newly-added energy criteria also include:
(1)
require companies to show their political support for global mandatory cuts in greenhouse gas (GHG) emissions in the post Kyoto political process. Companies must also commit to absolute reductions in GHG emissions from their own operations. Most companies take a limited view of this by only focusing on the energy efficiency of their products
(2) rather than including the production process. The Information and Communications Technology (ICT) sector currently accounts for 2% of global GHG emissions
(3), equal to the aviation industry. As one of the most innovative and fastest growing industries, Greenpeace expects the sector to take leadership in tackling climate change by reducing both their direct and indirect climate carbon footprint.
"Electronics giants pay attention to environmental performance on certain issues, while ignoring others that are just as important. Philips, for example, scores well on chemicals and energy criteria, but scores a zero on e-waste since it has no global take-back polices," said Iza Kruszewska, Greenpeace International Toxics Campaigner. "Philips would score higher if it took responsibility for its own branded e-waste and established equitable global take-back schemes."
Greenpeace's explanation of its new evaluation criteria
See also: Electronics Weekly's WEEE Directive In Full Force, a roundup of content related to the Waste Electrical and Electronic Equipment regulations, and a RoHS special, on the European Directive regarding 'Restriction of Hazardous Substances'.