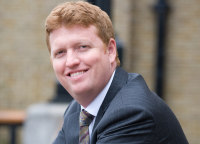 By Nick Wallin, pictured, partner and patent attorney at Withers & Rogers LLP – a leading UK firm of patent and trade mark experts.
New entrants in the field of consumer electronics are driving up the value of IP as they snap up the portfolios of more established players. This is creating a thriving secondary market for IP but is it here to stay and can it continue to grow in value?
IP portfolios of failing or failed electronics and telecommunications businesses such as Kodak and Nortel Networks have recently attracted large sums of money from businesses that want to acquire a slice of IP history. 
Often the new entrant is too young to have acquired many standards essential patents (SEPs) – those patents for inventions that have to be used if the product is to be able to communicate with other devices and networks –  and as such the commercial position of their innovations is weaker than that of their more established competitors, as licences are required from competitors to used the standardised inventions. In a bid to strengthen their commercial position, the relative newcomer has been willing to invest large sums in IP portfolios to help close the gap.
While these investments are considered and highly strategic, it is also true to say that the commercial value of many of the patents contained in a target portfolio may be low, in that the inventions are not being used. Instead, what the acquirer is paying for is typically a few 'hidden jewels' in the form of important, and preferably standards essential, inventions that are being used widely and that will provide them with negotiating tools against incumbents.
In the case of Kodak, for example, the demise of the business has been widely attributed to its failure to move with the times by adapting products for the digital age. Despite this, its IP portfolio has attracted significant interest from potential investors because it is thought to contain IP that is core to digital imaging including some core 'JPEG' technology patents that are essential to the production, storage and reproduction of both digital, still and video images in many devices ranging from mobile phones and tablet computers to big ticket items such as flat panel TVs, games consoles and DVD and Blu-Ray players.
Similarly, when Nortel Networks, the Canadian telecommunications company went into administration last year, its patent portfolio led to a frenzied bidding war, as telecommunications companies competed to acquire its considerable IP history dating back to the 1990s. The portfolio was eventually secured by a consortium of bidders led for $4.5bn (£2.8bn) in a move which has just been given the green light from the Department of Justice.
Google was also recently given the go ahead by the European Commission and the US Department of Justice to proceed with the purchase of Motorola Mobility Inc (MMI) in a deal that is expected to further fuel the patent wars in the mobile telephony sector.
These recent examples are evidence of a thriving IP secondary market in which we are seeing the value of IP rise exponentially in response to heightened competition to grow market share in a shrinking global marketplace. Those businesses that succeed in acquiring more patent rights will be better placed to fend off patent infringement claims and defend their market position in the future.
Further evidence, if needed, that the IP secondary market is here to stay is the recent decision by interdealer and brokerage company, ICAP, to launch a new patent brokerage service. Backed by this purpose-built investment vehicle, we can rest assured that more patent portfolios will be changing hands in the future.
By Nick Wallin, partner and patent attorney at Withers & Rogers LLP – a UK firm of patent and trade mark experts. Nick specialises in the electronics, computing and telecommunications sectors.