Electronics Weekly editors have selected six intriguing and innovative product technologies. You are invited to vote for the product which you believe is the most innovative and/or useful. Read the full entries below and cast your vote!
VOTING IS NOW CLOSED. Thank you to everyone who took part. The winner will be announced at the Elektra Awards presentation (Wednesday, 26 November).
P2i – Liquid repellent nano-coating
P2i is a supplier of liquid repellent nano-coating used to protect electronics circuits in consumer electronics such as smartphones, tablets and wearable devices. The patented nanotechnology lowers the surface energy of electronic devices protecting them from corrosion and water damage. It is used by consumer electronics manufacturers.

CSR – Bluetooth Smart jewellery
Bluetooth specialists CSR are betting big on wearable technology, and modelled their smart jewellery. The pendant provides ambient info, in terms of colour, for example about your phone's status, in terms of who has called. It has been designed in conjunction with the jeweller Cellini, and is based on a Bluetooth Smart platform capable of running from a lithium battery.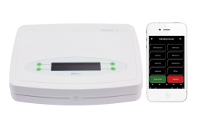 LightwaveRF – Connect Wifi-Link
LightwaveRF Connect Wifi-Link allows you to remotely control mains connected lights and other electrical devices using a smartphone. Available in the UK from Maplin Electronics, the unit attaches to a wireless broadband router and allows internet-based remote control of electrical devices in the home.
RoadHawk – DC-1 car black box video recorder
RoadHawk DC-1 forward facing camera is a car black box video recorder. It records video and audio on a constant loop and stores it on a standard SD memory card. This camera is fitted with a 3D sensor which measures G-force and will detect an impact. In the event of a collision, harsh braking or acceleration the DC-1 will save a 20 second clip – 10 seconds before and 10 seconds after the incident.

Omron – HeartScan portable ECG recorder
Omron HeartScan is a portable ECG recorder that fits into the palm of your hand. The ECG analysis provides information on heart rate, rhythm and the ECG waveform. The single lead recording runs for 30 seconds and includes a multilevel display of deviations from the norm as well as the date and time of the recording, the heart rate and the short cut analysis.

Ultimaker – Original desktop 3D printer
Ultimaker Original desktop 3D printer. The Netherlands-based firm is one of a number of suppliers addressing the consumer market for affordable 3D printing. Prices start at €995 and the printers available as DIY kit or fully assembled. Layer resolution is 20 micron and will build volumes up to 21x21x20.5cm.
The 2014 Award ceremony will take place on Wednesday 26th November at the Lancaster London. Put the date in your diary!