"Some say, that even with your crash helmet on, the sound alone will leave you grinning for days."

"Others say, the 400bhp flowing through the rear wheels is an unrivalled experience only enjoyed by a special, select, privileged few."

"All we know, its called the Elektra GP competition prize:  A Ferrari Experience day at Silverstone, courtesy of sponsors, Pinnacle."
Although Sebastian Vettel has been crowned the FIA drivers champion, there is still one race left in the motor racing calendar, the inaugural Elektra GP.
Like Bahrain, the circuit has been constructed within a luxury hotel complex and the only difference is scale: Well, 1:24 to be more precise as this prize will be awarded to the best driver of the "fastest lap competition" held on a Giant Scalextric circuit that will form part of the entertainment at this year's Elektra Awards.
Taking place at the Lancaster London on the 9th December, the Elektra Awards are Europe's largest awards ceremony. Organised by Electronics Weekly, they are the must attend award ceremony that recognises true excellence and outstanding achievement in the Electronics industry.
To be in with a chance of doing your best impression of "The Stig" by getting behind the wheel of a real V8 360 Modena Ferrari at Silverstone all you have to do is book a place or preferably several tables at this year's awards.

Paul Briggs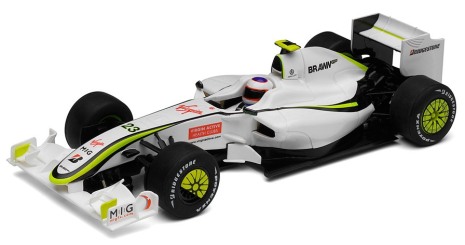 (Pictured is "Brawn GP 2009 – Rubens Barrichello", Scalextric style)