Richard Wilson, editor
…I was intrigued to read that a three-year research project, completed by the Rugby Science Group at Bath University and funded by the International Rugby Board (IRB), has resulted in changes in the law of rugby scrummaging.
According to the IRB, the aim was to establish safer engagement techniques and the research team investigated the forces and motion of scrum mechanics in order to determine the causes of injuries suffered throughout the sport.
David Manners, components editor
It was the new mood across the Atlantic this week that CEO pay should be linked to performance.
Steve Bush, technology editor
Power Integrations have done a great job with their low-stand-by 8W mains power supply for TVs, washing machines, and other consumer devices. Sensibly, the 4mW stand-by allows for 1mW to be delivered to a clock, sensor, or microcontroller.
To get this low figure, the firm has had to add a Schottky diode in series with the output, which at full 1.6A output will be dissipating perhaps 600mW, so lifetime gains are to be had when the power supply is on stand-by far more than it is under load.
Perhaps an active rectifier would be better instead of a Schottky?
Sue Proud, production editor
This Android Watch caught my eye. Not of itself. but because it typifies the limited vision of the designers working on wearable electronics. Why are they so wedded to the watch format, with all its space limitations, which means you must also have a mobile phone or other communication device in your pocket to support it? With the great advances already seen in flexible displays and the thinning down of mobile devices, as well as a long human history of wearing cuffs and armlets as bling and status symbols.
I think it won't be long before this sort of thing is obsolete, because we'll all have an app for that.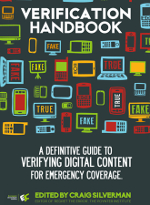 Alun Williams, web editor
A book highlighted on Google's SearchResearch blog. It's the Verification Handbook (also available as a free PDF), by Craig Silverman of the Poynter Institute. "Each chapter is a story and guidelines about how to verify the information you see flowing past on social media." In the era of citizen journalists maybe we also need to be citizen sub-editors…
What caught your eye this week? Let us know on twitter using the hashtag #EWconvo