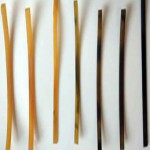 David Manners, components editor
…Infineon's take over of International Rectifier, the world's oldest semiconductor company founded in 1947.
Steve Bush, technology editor
Alan Dalton at the University of Surrey is turning rubber bands into movement sensors by soaking graphene flakes deep into the rubber using a process that costs a few pence.
While they will never be precision sensors, their linearity is good enough to produce clear movement waveforms – perfect for analysing chest movement during breathing.
Alun Williams, web editor
…In the latest ARWU global university rankings (done by a Chinese university), in the Engineering sector, there were 10 Chinese universities in the top 50. Generally, 32 of the top 500 were Chinese. A sobering statistic for those who think the West will always maintain an academic lead. There's good news for Imperial College in there, too.
What caught your eye this week? Let us know on twitter using the hashtag #EWconvo