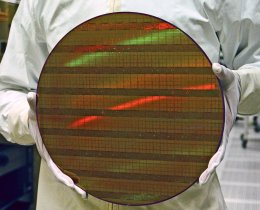 David Manners, components editor
… It was the news that IBM is looking to sell its fabs. IBM is one of only three sources worldwide for core CMOS manufacturing technology which it supplies to Samsung, GloFo, UMC, ST, Renesas  and Toshiba. If IBM gives up developing basic process technology then only Intel and TSMC will have it which will fundamentally alter the balance of power in the industry.
Steve Bush, technology editor
I am not sure it is going to be of any use in the immediate future, but having spent my adult life knowing that magnetic monopoles were impossible, I enjoyed finding out that I was wrong. That said, what has been found is an analogue of a magnetic monopole, said to perfectly mimic the real thing, so perhaps they are impossible after all.
Sue Proud, production editor
I like a beer as much as the next man (no, really, I do) so I would be very disappointed if this piece of kit replaced the job of 'beer taster' to which I have aspired for many years!
Alun Williams, web editor
Working on Gadget Master, retro Nixie Tubes always catch my eye and the Smart Nixie Tube (pictured) is the latest example.  On KickStarter it is described as the first expandable Nixie Tube display with built-in Arduino Uno compatible hardware. And there's LED accent lighting, too.
What caught your eye this week? Let us know on twitter using the hashtag #EWconvo