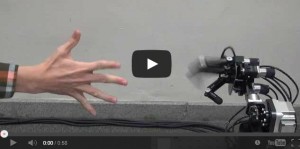 David Manners, components editor
… that Intel's mobile 14nm process is delayed till 2015 while ARM expects to have first ARM-based SOCs out in Q4. The Intel process advantage appears to have evaporated.
Sue Proud, production editor
Pleased to see Google investing something in Code Club, and Sir Tim Berners Lee giving up a bit of time to talk to the children. That's small beer, though, compared to the commitment of the volunteers who run Code Clubs up and down the country to inspire and identify those who will make the next generation of coders.
Alun Williams, web editor
Japanese research involving the perfect rock-paper-scissors robot. It's creators call it a "janken" and demonstrate a 100% winning rate, as just one example of "human-machine cooperation systems". They are investigating the technology's use in labour-intensive processes that currently require human eyes and hands because they're too difficult or costly to automate.
What caught your eye this week? Let us know on twitter using the hashtag #EWconvo