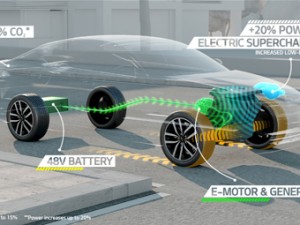 David Manners, components editor
…It was news that 450mm may be delayed to 2023 which is pretty much like saying it may never happen. And that's exactly what one CEO is saying.
Steve Bush, technology editor
There are a couple of things that caught my eye in the story about Kia's hybrid car power-train (pictured). The first is that Kia is trying Pb-carbon batteries, and the second is that it has an electric supercharger – combined with an exhaust turbo-generator these can give all the power and efficiency advantages of a turbo-charger without any of the lag.
Finding a battery that will accept and deliver charge fast enough at all temperatures for such a hybrid, without it weighing a tonne or costing the earth is difficult. It will be interesting to see if Pb-carbon is the battery to do it, and whether having Pb in the solution will prove too 'old fashioned' against some form of Li battery.
Sue Proud, production editor
This one raised a smile – a potentially useful app if you're in New Orleans for Mardi Gras, but also, I think, something that could catch on in remote parts of Britain where tourists may be at a loss as to where to relieve themselves – a phone app that tells you where the nearest private house is whose occupants will let you use their bathroom. And no doubt 'entrepeeneurs' will charge whatever the market can take.
Alun Williams, web editor
An Android-based MOOC run by the University of Reading. I'm already signed up for one MOOC and there's plenty more I would like to do, such as this one. You are spoilt for choice… So much to learn, so little time available!
What caught your eye this week? Let us know on twitter using the hashtag #EWconvo