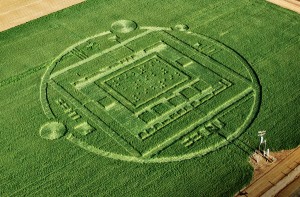 It's actually a tongue-in-cheek marketing initiative for Nvidia's new 192 core GPU.
Nvidia explains it is not the work of aliens:
We simply couldn't think of any other way to explain that our new Tegra K1 processor, with 192 graphics cores, can do things no other technology — on this planet, at least — could.

Those energy-sipping graphics cores put an unbelievable amount of power into an incredibly tiny package. They use the same Kepler architecture used to accelerate some of the world's most powerful supercomputers, and power the graphics chips embedded in our top-of-the-line GeForce GTX graphics cards.
You can read also more about the Tegra K1, which features the NVIDIA Kepler, with 192 CUDA cores »
Nvidia writes:
Tegra K1 harnesses ARM's advanced CPU, Cortex A15, plus a third-generation battery-saver core, to deliver record levels of performance and battery life. This Variable SMP (Symmetric Multi-Processing) architecture from NVIDIA enables four performance cores to be used for max burst when needed, with each core independently and automatically enabled and disabled based on workload.
Thanks to Rob H for highlighting this one.
httpv://youtu.be/5LJCTnNmT48