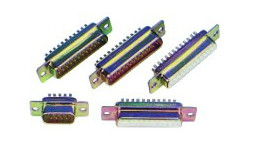 I'm fascinated about the development of the interconnection industry. I spend hours researching new innovations and the latest products, which keeps my knowledge totally up to date. However, I am also very nostalgic over previous innovations that have made a huge contribution to the industry. So here is my personal pick of some of the best.
D-Connector
The D-sub series of connectors was invented by ITT Cannon, in 1952, and is still one of the most widely used connectors today. The reason it has remained so popular is down to its simplicity both in assembly but also in the way it can be used for so many applications.
A good example is that the D-Connector is used for Serial, Audio, Low voltage Power and Video. How many other connectors designed in the 1950s are still around today and can boast that many uses?
Coax Connectors
The UHF Connector was the first widely adopted Coax connector originally developed for RADAR in WWII. Since then, however, Coax Connectors have developed to today's high frequency communications networks. The most impressive thing about Coax is that it is simple yet so powerful.
You even find micro coax cables in modern mobile phones! The idea that a single core cable in a dielectric sheath can do things that no other cable can is a triumph in physics.
RJ45 Connectors
It is no understatement that without the RJ45 connector modern computer networks would not be the same they are today. The RJ45 connector facilitated the adoption of Ethernet and 10/100 BaseT Network protocols that have lead to our 10GB Ethernet Cat 6a networks using the same connectors.
Assembly of the connectors is relatively easy and you don't need expensive tools which has lead to the success of this connector. Another subtle design element that has been a major factor is the locking tab which prevents the connector from being accidentally pulled out of the socket by creating a positive lock. Simplicity is the key to the success it just works well which is why it's still not been surpassed.
Fibre Optic Cable
It's fast, powerful and is the future! Fibre Optic have been around for ages however it was not used in telecommunications until the 1960s as the technology to transfer light pulses into data is quite sophisticated, needing powerful electronics.
As soon as it's potential for long-distance transmission was realised it very quickly became the medium of choice for long-distance communications such as underwater cross continent communication links.
Fibre outstrips copper in terms of bandwidth and distance, which is why it is becoming more and more widely adopted. The only thing holding back fibre from the dominance of copper is its relative high cost, although we have seen prices falling quite dramatically over recent years.
Quite simply nothing else is as fast and powerful, and since it will not perish or corrode the lifespan is almost endless. Beat that copper!
Image: Maplin D Sub Connector 9 Way
Nick Locke, Nicab Ltd