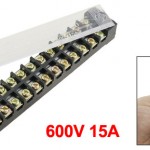 A common question I am often asked is, What is the best way to create an in-line wire to wire connection? I like these sort of questions as it is good to be part of the design process and help people make the best decisions for them.
Depending on the specifics, there are many options available. Let's take a look at my top five ways to create a cable joint.
1: Crimp Splice
The In-Line Crimp Splice is easy and simple with minimal tools required. These handy splices are great for simple connections and very popular in electrical installations. Although the crimp splice is not waterproof it is simple. And if you are having to make a cable connection in an environment where there is no mains power, all you need is a hand crimp tool.
2: Solder Sleeve
Solder Sleeves are similar to the Crimp Splice. However, it has the added benefit of having an inner lining of solder that creates the joint when being heated. The outer jacket is a heat shrink material that by shrinking down to the diameter of the cable creates a basic environmental barrier.
A good example of the use of a solder sleeve is splicing a piece to wire to the braid of a multicore cable. The Solder Sleeve is robust, simple and effective but does need to be used by experienced trained assembler as the combination of heat and you only getting one shot to install means these must be assembled correctly to work effectively.
3: Terminal Block
We have all seen these and if you have plenty of space and a screwdriver then these are the simplest way to create a connection (pictured). Mostly used in power cables they can be used for any cable to cable connection. Simple and easy and you can get these anywhere!
4: Ultrasonic Weld
The ultrasonic welding process takes place in a solid state, without any melting of the parts being joined. This is accomplished by overlapping the weld metals and rubbing them against each other using low pressure, and high frequency mechanical oscillation. Within a fraction of a second, a permanent, solid and pure connection, with outstanding physical properties, is created.
As a rule, all non-ferrous metals are suitable for this joining technique, however, copper, aluminium and their respective alloys are particularly well suited.
The method of Ultrasonic welding is the strongest and most reliable however, it is the most expensive requiring the use of incredibly expensive machines.
5: Solder
Solder is the easiest one of the strongest and lowest in cost methods of joining cable. This quick and simple method is the most widely used because it is simple and effective. It also has the added benefit that it takes up very little space.
While a solder joint is not flexible and must be assembled correctly it is my personal favourite. There are many different types of products on the market, however, the above are by far the most common you will be likely to come across.
And if you are not sure which is best for you, then fear not, your helpful cable assembly experts will be there to help you!
Image: 600V 15A 12 Position 2 Row Terminal Block Barrier Strip Cable Connector – www.sourcingmap.com
Nick Locke, Nicab Ltd