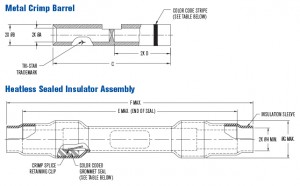 While there are many splice connectors on the market there are none that provide an environmental seal along with their unique termination method and that do not require any heatsink.
Enter Carslile Interconnect with their revolutionary splice system. The problem with traditional splice connectors is the lack of environmental protection making repairs in applications such as aerospace very difficult. There is the solder splice which requires heat to activate the solder on the internal sleeve, however these are impractical for field repairs.
This two part splice consists of a barrel and outer environmental sleeve the benefits include:
Meets or exceeds all applicable performance requirements of AS81824/1 & AS81824/14
No heat requirement to install and create a seal
Easy and quick installation
Operational Temperature Rating of 175°C
Insulation Resistance MIL-STD-202, Method 302 Cond B (500V)
DWV per MIL-STD-202, Method 301 (2500V)
Altitude Immersion 75,000 ft (26.78mm of Hg)
Fluid immersion tested – MIL-PRF-7808, -23699, -5606, -87937, MIL-DTL- 5624, -83133, & AMS 1424
Vibration MIL-STD-202, Method 201
Carlisle IT's Heatless Crimp Splice is needed wherever maintenance is required on, or near, flammable liquids to achieve a superior seal.
This product can be expanded beyond just military and commercial aircraft applications to oil & gas exploration and refineries, heavy equipment, industrial machinery, marine vessels and military ground vehicles.
httpv://youtu.be/Op1YMaz454E
A simple useful new product that I am sure will be a great success.
Nick Locke, Nicab Ltd