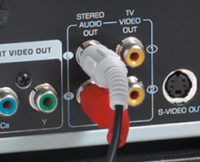 Welcome to another post in the series by Nick Locke, of Nicab Ltd, who has over 15 years experience in the electronics manufacturing industry specialising in interconnection cable assembly.
This weeks blog post highlights a web resource provided by Home Depot who have helped produce this in-depth guide to audio cabling.  
It will tell you everything you need to know about choosing the right products for the best audio output for your devices.
They begin:
Audio cables transmit sound signals between components in a home entertainment system. Selecting the right audio cables is an essential step in getting the most out of your equipment. Even with the most advanced home theater gear and top-of-the-line speakers, you can't get the full surround sound experience without the proper cables.
Audio cables fall into two basic categories. Interconnect audio cables transmit signals from an audio source, like a CD player or cable TV receiver box, to your A/V receiver or TV. Speaker cable, also known as speaker wire, transmits audio signals from an A/V receiver to separate speakers. This buying guide explains the available options for both types of cable, so you can feel confident you're selecting the cables that best meet your needs.
Previous Only Connect entries:
* Only Connect: Mary Portas highlights stark reality for manufacturing
* Only Connect: New data connectivity – CAT6A & 10G comms
* Only Connect: Molex and innovation
* Only Connect: The future of interconnect in Electronics
* Only Connect: Alternative generic connectors
* Only Connect: On D-Type connectors
* Only Connect: Quality of workmanship and value of UK Manufactured
* Only Connect: 3M Twin Axial Cable
* Only Connect: Workshop tools and cool, cute videos
* Only Connect: NASA-standard quality
* Only Connect: Requirements & Acceptance for Cable & Wire Harness Assemblies
* Only Connect: CCA Conductors in Ethernet Cables