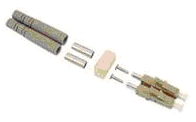 Welcome to another post in the series by Nick Locke, of Nicab Ltd, who has over 15 years experience in the electronics manufacturing industry specialising in interconnection cable assembly.
This week I am going to give you an overview of common fiber connectors in use today. I get asked a lot which connectors to use and this following guide should give you an idea of what is out there and best suited to your application.
I have also spoilt you with a video guide at the bottom of this printable guide!
MT-RJ


Used for networking applications. It's actually a little smaller than a standard phone jack, and just as easy to connect and disconnect. It's half the size of the SC connector it was designed to replace.


FDDI
Used for networking applications. Duplex connector with fixed shroud, keyed.

ESCON
Used for Data and Voice network applications (Duplex)



ST


One of the most commonly used fiber optic connectors in networking applications. Cylindrical with twist lock coupling, 2.5mm keyed ferrule. For both short distances applications and long line systems.
 
SC


Used frequently for newer network applications. Square, keyed connector with push-pull mating, 2.5mm ferrule and molded housing for protection.
 

SMA
The SMA fiber connector is decreasing in popularity.


FC/PC
Widely used Fiber optic Connector


D4
Decreasing in use.


Biconic
Decreasing in use.


LC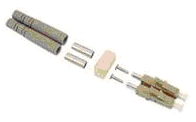 MU Connector

Toslink Connector


With Fiber Optics there is much more than just the connectors as the cable is also a massive subject on its own so watch out for future blogs on the subject.
Here is the video I promised you, enjoy:
Previous Only Connect entries:
* Only Connect: Product innovation – mixing signal
* Only Connect: IPC versus Greenpeace electronics scorecard
* Only Connect: Product innovation from Space
* Only Connect: Apple's MagSafe connector makes sense
* Only Connect: Coaxial connections guide
* Only Connect: Eco-gift for Christmas (Going Green #4)
* Only Connect: How to promote UK Manufacturing #3
* Only Connect: On using Ethernet connectors
* Only Connect: High-temp superconductors good news for renewable energy
* Only Connect: A positive mindset for winning government contracts
* Only Connect: A Top Ten of connector manufacturers
* Only Connect: Red toxic sludge points the way (G oing Green #3)
* Only Connect: Handy Design Tips #4 – Explosion proof Ethernet
* Only Connect: We're changing the world into a better place, baby!
* Only Connect: Handy Design Tips #3 – The right wrong connector
* Only Connect: Proud of the Made In UK mark
* Only Connect: Handy Design Tips #1 – Colour
* Only Connect: Better promoting the value of UK manufacturing