Welcome to another post in the series by Nick Locke, of Nicab Ltd, who has over 15 years experience in the electronics manufacturing industry specialising in interconnection cable assembly.
Because it's getting close to Christmas I thought I would let you into a secret. I am a massive guitar fan. That's right I love to shred, and the tenuous link to my blog is that electronics in guitars and most electrical instruments is often overlooked.
However when Les Paul decided to electrify his guitar in 1931 he could only imagine how things have developed over the 80 years.
We forget because it's just there that electronics rule our musical lives. What's more, it's quite a complex business, that's probably why so many electronics geeks are also audiophiles.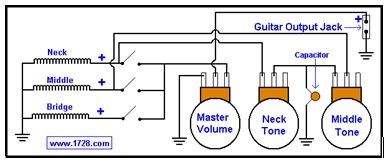 To illustrate my point, and to give you a glimpse into my world, here (right) is a wiring schedule from a typical electric guitar using single coil pickups.
The following is a wiring schedule for an electric guitar with humbucker pickups.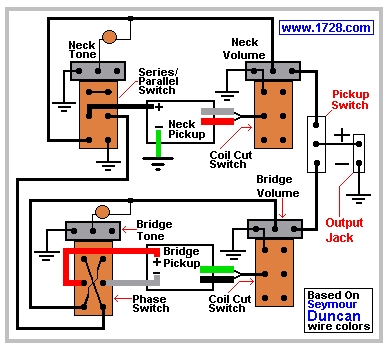 For those who find this sort of thing fascinating there is a ton of really great in-depth information from http://www.1728.org/guitar.htm and if you want to take things one set further then check out this video on making your own guitar: http://youtu.be/_xi5YptSqFM how cool is that!
Thank you for indulging me however, I know there are loads of us out there who find this sort of thing interesting and I am certainly very proud to be one of you!
See also: Made By Masters #5 – Les Paul electric guitars
Previous Only Connect entries:
* Only Connect: NASA-standard quality
* Only Connect: Requirements & Acceptance for Cable & Wire Harness Assemblies
* Only Connect: CCA Conductors in Ethernet Cables
* Only Connect: Good design and the IEC Connector
* Only Connect: Identifying greener manufacturers (Going Green #9)
* Only Connect: New product design – InfiniBand CXP 12x QDR standard
* Only Connect: HDMI Connections a simple guide
* Only Connect: New investment in the motor industry's high-end
* Only Connect: My personal connector top ten
* Only Connet: Marine manufacturing and growth
* Only Connect: The RS Connector zone
* Only Connect: The Eco Award goes to…? (Going Green #8)
* Only Connect: Molex and the Solar powered vehicle
* Only Connect: Major positives for the connector industry – J.P Morgan
* Only Connect: Cisco on a winner with Universal Power Over Ethernet