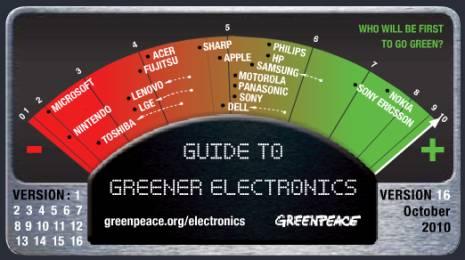 Welcome to another post in the series by Nick Locke, of Nicab Ltd, who has over 15 years experience in the electronics manufacturing industry specialising in interconnection cable assembly.
There is fascinating news that IPC has hit out at faulty science contained in the latest revision of the Greenpeace electronics scorecard.
Greenpeace International (Amsterdam, The Netherlands) has for several years produced a scorecard of the top electronics companies ranging from Apple and Hewlett-Packard to Nokia, Samsung and Toshiba. Greenpeace has marked companies down and criticized them for not doing all that could be done to remove toxic and hazardous substances from the manufacturing processes for their products.
You can see their latest report.
Now IPC has returned fire by criticizing what it considers to be bad science in the latest revision to Greenpeace's electronics scorecard, Guide to Greener Electronics.  The guide rates consumer electronics companies against Greenpeace criteria on hazardous substances, take back and recycling, and energy use and climate change.
IPC argues that certain steps that Greenpeace is demanding of electronics companies are not necessary according to scientific research with particular regard to brominated flame retardents (BFRs) in general and the BFR Tetrabromobisphenol-A (TBBPA) in particular.
IPC state that Greenpeace continues to mark down leading consumer electronics manufacturers for failing to lobby for an agenda based on faulty science. Several computer manufacturers received lower scores for not aggressively removing brominated flame retardants (BFRs) from their products.
The science does not support the need to phase out all BFRs. In fact, the World Health Organization and the European Commission's Scientific Committee on Health and Environmental Risks conducted separate, comprehensive scientific assessments of Tetrabromobisphenol-A (TBBPA), a widely used BFR, and both found TBBPA to be safe for human health and the environment
In addition, IPC, on behalf of its members, is extremely concerned about Greenpeace's tactics in penalizing companies for 'failing to openly support restrictions on … brominated flame retardants (BFRs)…' In fact, Greenpeace provides specific wording it would like to see companies use in calling for an expansion of the RoHS Directive to include the ban of BFRs.
I think this is important as while we in Electronics are trying to do all we can to reduce our environmental impact it is important that we reach a balance between those of us who want to see big companies do better and the science to support the environment impact of our activities.  
By way of being balanced, the following video from The Aspen Institute discusses globalisation's impact on the environment:
I know some people find the whole thing tedious but seriously it's only informed individuals that can make the rational decisions about our future and the part our industry has to play.
Nick Locke, director at Nicab Ltd, has over 15 years experience in the electronics manufacturing industry specialising in interconnection cable assembly. Driven by a passion for interconnection he spends a great deal of his time searching out the latest technology and innovation in interconnection & manufacturing in general.
Keen to pass on information his aim is to engage the electronics community in the subjects and issues he believes are important. Totally devoted to the promotion of the electronics manufacturing industry he sees the future of electronics manufacturing as vital component in the UK economy.
Previous Only Connect entries:
* Only Connect: Product innovation from Space
* Only Connect: Apple's MagSafe connector makes sense
* Only Connect: Coaxial connections guide
* Only Connect: Eco-gift for Christmas (Going Green #4)
* Only Connect: How to promote UK Manufacturing #3
* Only Connect: On using Ethernet connectors
* Only Connect: High-temp superconductors good news for renewable energy
* Only Connect: A positive mindset for winning government contracts
* Only Connect: A Top Ten of connector manufacturers
* Only Connect: Red toxic sludge points the way (Going Green #3)
* Only Connect: Handy Design Tips #4 – Explosion proof Ethernet
* Only Connect: We're changing the world into a better place, baby!
* Only Connect: Handy Design Tips #3 – The right wrong connector
* Only Connect: Proud of the Made In UK mark
* Only Connect: Handy Design Tips #1 – Colour
* Only Connect: Better promoting the value of UK manufacturing
* Only Connect: Easy ways to go green
* Product packaging (Going Green II)
* Only Connect: The Nicab Top Ten connectors
* Only Connect: Handy Design Tips #2 – Problems & Opportunities