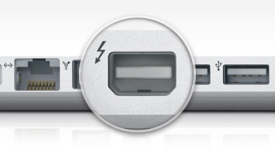 Welcome to another post in the series by Nick Locke, of Nicab Ltd, who has over 15 years experience in the electronics manufacturing industry specialising in interconnection cable assembly.
If you are one of the many people who currently use Apple products you will have no doubt noticed the cables you need to connect the device to another are proprietary and cost a lot, too.
 
It has to be said that Apple has come up with some fantastic innovations. For example, Thunderbolt cables deliver a massive 10 Gbps of bi-directional throughput. We also have to mention the MagSafe connector, which is quite simply one of the best ideas for power interconnector of mobile devices… ever!
It is a fact that Apple under Steve Jobs did not just make their interconnect proprietary they made some great advances delivering true technical benefits though innovation.
The question we have to ask is what is the future under Apple's new leadership and will they continue down the road of creating their own innovative products or adopt existing and future technologies for interconnection.
It takes an awesome amount of time testing and developing new interconnects that are different and or better than others on the market. So, without Steve Jobs' drive to deliver new and better everything, what options are open to them?
My personal view is that in the future they will adopt other interconnect and go more mainstream. I just can't see them wanting to spend so much money and time developing new interconnect when other technical innovations will be more pressing.
It is true, however, that Apple do make a lot of money on their cables and adapters simply because as an Apple owner you have to buy their cables if you want to attach to anything.
I may well be wrong on this and only time will tell, however, I do not see any new developments on the horizon and we will just have to wait and see if they can surprise us all and deliver something unique and special.
Previous Only Connect entries:
* Only Connect: On Round & Flat Ribbon cable
* Only Connect: 2012 a year of change!
* Only Connect: 2012 a year of change!
* Only Connect: New, contactless technology
* Only Connect: The future of interconnection
* Only Connect: IPC/WHMA-A-620 – Product innovation – Coaxicom adjustable RF Connector
* Only Connect: IPC/WHMA-A-620 – Revision B has been released
* Only Connect: Product Spotlight – IEC endorses four USB-IF standards
* Only Connect: Product Spotlight – Molex Minifit Jnr Connector series
* Only Connect: LVDS Cables, a simple guide
* Only Connect: 3M growing Twin Axial cable range
* Only Connect: On worldwide connector demand
* Only Connect: Apple's new Lightning connector splits opinion