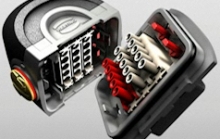 Welcome to another post in the series by Nick Locke, of Nicab Ltd, who has over 15 years experience in the electronics manufacturing industry specialising in interconnection cable assembly.
They say that if you always run your car on empty eventually it wall cause damage to the engine and cost you more in the long term, I believe it is the same for your mind.   
If we only invest in the minimum to get by we will mostly just get by.  However, if we constantly keep our minds topped up we will run in peak performance which leads to long term happiness, and isn't that what we all want?
It's not easy, it takes hard work and more effort but then anything worth having is always harder to gain.  If you work in a highly technical industry such as ours it is well worth taking the opportunity to improve your knowledge, and it is possible. After all, learning about something your are interested in is always easier.
There are some really great short courses out there. For example,
IPC Training
starts from the basics through to advanced assembly techniques. For the more technical a short course is a excellent way to brush up on your skills.  
Oxford University does some great short courses, as do many academic institutions throughout the country.
For those who don't consider themselves as technical, then I can highly recommend the Make series of videos. I strongly recommend EVERYONE subscribe to this YouTube channel. They make electronics and engineering so easy to understand!
Finally, now for something completely different, I want to acknowledge the winners of this year's Elektra award for Passive & Electromechanical Product of Year: Harting – Han-Yellock connector system (pictured above). 
It's a great system and well worth the award. It proves that simplicity is the key to great design.  Harting are a fantastic company with brilliant products, often copied but never bettered!
Previous Only Connect entries:
* Only Connect: Quality of workmanship and value of UK Manufactured
* Only Connect: 3M Twin Axial Cable
* Only Connect: Workshop tools and cool, cute videos
* Only Connect: NASA-standard quality
* Only Connect: Requirements & Acceptance for Cable & Wire Harness Assemblies
* Only Connect: CCA Conductors in Ethernet Cables
* Only Connect: Good design and the IEC Connector
* Only Connect: Identifying greener manufacturers (Going Green #9)
* Only Connect: New product design – InfiniBand CXP 12x QDR standard
* Only Connect: HDMI Connections a simple guide
* Only Connect: New investment in the motor industry's high-end
* Only Connect: My personal connector top ten