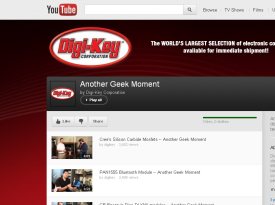 Welcome to another post in the series by Nick Locke, of Nicab Ltd, who has over 15 years experience in the electronics manufacturing industry specialising in interconnection cable assembly.
This week's Blog is about product innovation presented in a great way via online multimedia content.
In my previous Blogs I have mentioned great use of this and for those that follow me you will know that I love guitars and this week I get to combine both of these.
Digi-Key have taken to using multimedia very well by presenting their message in technical yet easy to understand and fun way. Take a look at their videos and you can see they know how to reach their audience and in a fun way.
I really like this because much of what we see is technical based and sometimes hard to follow, especially for non technical people who do have an interest in new products.
If your company producing information that engineers want to see that is great, however, who is doing the buying?  Unlikely to be engineers. Although they can specify what to use, ultimately purchasers have to go and get the parts.  If the purchasers are engaged with products that are presented in an easy to under stand way they are more likely to buy or to feel closer to your brand.
What has all this got to do with guitars?  Well take a look at the video from Digi-Key.  Rock on!
Previous Only Connect entries:
* Only Connect: On innovation in Electronics
* Only Connect: On new technology (II)
* Only Connect: On new technology
* Only Connect: Only Connect: On branded manufacturers using multimedia
* Only Connect: Tin plating on contacts
* Only Connect: Marketing to the electronics manufacturing industry
* Going Green #10 – electronics sections
* Only Connect: New product design – InfiniBand CXP 12x QDR standard
* Only Connect: HDMI Connections a simple guide
* Only Connect: New investment in the motor industry's high-end
* Only Connect: My personal connector top ten
* Only Connet: Marine manufacturing and growth
* Only Connect: The RS Connector zone