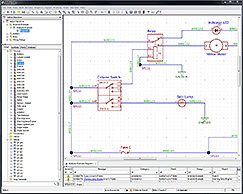 Welcome to another post in the series by Nick Locke, of Nicab Ltd, who has over 15 years experience in the electronics manufacturing industry specialising in interconnection cable assembly.
One of the biggest challenges in the electronics industry, in fact any industry that requires a substantial amount of human labour, is costing / quoting of new work.
We have all been there, working out how long an assembly will take to make from a drawing. Well, no matter how good you are or think you are you can get this wrong as much as you get it right.  
The real question is how do you go back to your customer asking for more money or do you just swallow the loss and hope to make it back on another job?
So, what if there was a way to more accurately estimate the true cost of assemblies?  Well there is, and guess what? The USA is ahead of us! Mentor has developed new software to aid the accurate estimation of new cable assemblies, harnesses and looms.
While I am not trying to give them a free ad here I have not seen anything like this in the UK, as much as I would like to. If I am wrong please feel free to correct me.
This type of technology really is great and as I believe many of us either over- or under-estimate how long things take, why not use technology if it's out there?
Here is a link to the info: http://www.mentor.com/products/electrical-design-software/
Previous Only Connect entries:
* Only Connect: Only Connect: On branded manufacturers using multimedia
* Only Connect: Tin plating on contacts
* Only Connect: Marketing to the electronics manufacturing industry
* Going Green #10 – electronics sections
* Only Connect: New product design – InfiniBand CXP 12x QDR standard
* Only Connect: HDMI Connections a simple guide
* Only Connect: New investment in the motor industry's high-end
* Only Connect: My personal connector top ten
* Only Connet: Marine manufacturing and growth
* Only Connect: The RS Connector zone
* Only Connect: The Eco Award goes to…? (Going Green #8)
* Only Connect: Molex and the Solar powered vehicle
* Only Connect: Major positives for the connector industry – J.P Morgan
* Only Connect: Cisco on a winner with Universal Power Over Ethernet