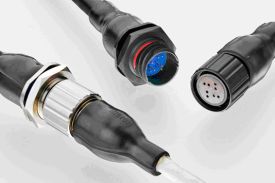 Welcome to another post in the series by Nick Locke, of Nicab Ltd, who has over 15 years experience in the electronics manufacturing industry specialising in interconnection cable assembly.
For those of you that follow this blog you'll know that I am a fan of high speed data and especially new innovative ways of interfacing technology.
I am quite pleased to see the new high speed data connectors from Tyco, the Fas-T connectors.  
In short these are Ethernet Connectors in the circular mill-spec style for harsh environments. We have all seen industrial and IP68 Ethernet connectors, however, this is specifically made-for high end Ethernet connector series for truly harsh environments.
What is good about these connectors are the way they maintain the data integrity of the cable twisted pairs and offer the design engineer the opportunity to use Ethernet where previously this would not have been an option.
Because Ethernet is a simple yet very fast media this should be widely adopted and become common place in the future.
Here is a link to the Tyco product video, enjoy!
Previous Only Connect entries:
* Only Connect: On new technology
* Only Connect: Only Connect: On branded manufacturers using multimedia
* Only Connect: Tin plating on contacts
* Only Connect: Marketing to the electronics manufacturing industry
* Going Green #10 – electronics sections
* Only Connect: New product design – InfiniBand CXP 12x QDR standard
* Only Connect: HDMI Connections a simple guide
* Only Connect: New investment in the motor industry's high-end
* Only Connect: My personal connector top ten
* Only Connet: Marine manufacturing and growth
* Only Connect: The RS Connector zone
* Only Connect: The Eco Award goes to…? (Going Green #8)
* Only Connect: Molex and the Solar powered vehicle
* Only Connect: Major positives for the connector industry – J.P Morgan
* Only Connect: Cisco on a winner with Universal Power Over Ethernet