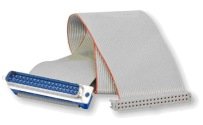 Welcome to another post in the series by Nick Locke, of Nicab Ltd, who has over 15 years experience in the electronics manufacturing industry specialising in interconnection cable assembly.
This week I am going to give you my reasons for loving Round & Flat ribbon cable and how it can not only reduce your stress levels but also save you a ton on money in the process.
If you are creating a data connection you have the choice of many different connector types and the common denominator is they all take some time to assemble. 
For example, Crimp & Solder connectors require a level of prepping the cable for assembly then the assembly itself, which take a while. Then in comes IDC (Insulation Displacement Connectors) where all you have to do is cut the cable to the required length, expose the conductors and in one simple action you terminate all the conductors in one easy action.
The standard IDC Connectors accommodate 1 to 60 connection and come in the standard two row connectors also in D-Type and Centronics connectors. With the ability to use flat and round cable you can also use screened cable to give a wide range of connection possibilities that can be used in numerous applications.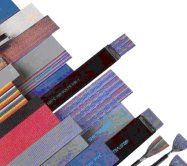 There are some limitations we have to acknowledge, the principal one being that connections need to be either 1-1 or use reversed pinning. The other limitation is the wire gauge is typically 28AWG or higher. However in most signal applications this is acceptable.
So there you have it, simple quick and cost effective. What more could you as for in a cable? Consider designing in IDC into your next application. Happy Designing!
Previous Only Connect entries:
* Only Connect: 2012 a year of change!
* Only Connect: 2012 a year of change!
* Only Connect: New, contactless technology
* Only Connect: The future of interconnection
* Only Connect: IPC/WHMA-A-620 – Product innovation – Coaxicom adjustable RF Connector
* Only Connect: IPC/WHMA-A-620 – Revision B has been released
* Only Connect: Product Spotlight – IEC endorses four USB-IF standards
* Only Connect: Product Spotlight – Molex Minifit Jnr Connector series
* Only Connect: LVDS Cables, a simple guide
* Only Connect: 3M growing Twin Axial cable range
* Only Connect: On worldwide connector demand
* Only Connect: Apple's new Lightning connector splits opinion