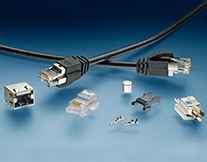 For a number of years demand for Power Over Ethernet (POE) has grown in demand however, traditional RJ45 systems are very limited as to the amount of power that can be delivered. The Cloudsplitter Connector solves this problem.
The system is RoHS/REACH compliant, designed to meet UL444 and uses CM rated cable. It is ideal for use in video surveillance over IP networks, intelligent building management, factory automation and wireless network transceivers.
The Cloudsplitter SMT cable plug combines eight 26AWG stranded signal conductors and two 18AWG stranded power conductors in shielded or unshielded configurations. The SMT jack is backward compatible and accepts a Cloudsplitter plug or a standard RJ45 shielded plug. Its integrated power contacts provide DC power at 5A and up to 50 VDC.
Two LED lights are included in the jack assembly for standard data transmit and receive indication. The Cloudsplitter connector system's unitised connection approach combines two connections into a single product to provide a power and data solution for devices.
Key Features
• Cat 5e and DC power in one connection
• SMT Jack accepts standard RJ45 shielded plug in addition to Cloudsplitter plug assembly
• UL 1863 Approved
• Cable is UL444 compliant and CM rated
Applications
• Video surveillance over IP networks
• Intelligent building management
• Factory automation
• Wireless network transceivers
While this is not a totally new idea (Yaminichi were first to the market with their Y-Con Connectors), the Cloudsplitter connector does add something new: 5A rating on the power contacts. This opens up the possibility of many more devices that can be powered using this system, meaning less need for independent power supplies which can reduce the overall cost of the device.
If you are a design engineer the frustration of how to introduce power to your PCB has just got a whole lot easier. I think we will be seeing a lot more of this in time. It's quite a development.