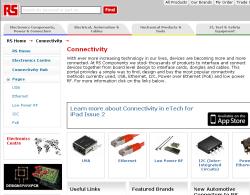 Welcome to another post in the series by Nick Locke, of Nicab Ltd, who has over 15 years experience in the electronics manufacturing industry specialising in interconnection cable assembly.
As reported in Distribution World, RS has created a website portal aimed at design engineers and students looking to select and buy connector and interfacing components and equipment.    
As a connector / interconnection specialist I thought I'd take a look and give you my thoughts from my humble expert opinion.
The portal focuses primarily on USB, Ethernet & Low Power RF with the addition of some other products.  This portal is useful in that it explains a brief overview of each product and applications which use the connectors. 
You do find yourself clicking on links expecting to find out more about the connectors but end up just on a list of products you can buy. For the engineers the best link is the one to the
design spark
web portal where there is much more engineering resources for those with a more technical thirst for knowledge.
This is a good start for RS as clearly they understand that in today's crowded market place the distributor had to do more than just have parts on the shelf it has to add value to it's customers by offering a deeper level of education that will help their customers.  
From the point of view of someone at the sharp end of the interconnection industry I can only approve of this. It's no www.connector.com from Molex but this is a great first step by RS.
Previous Only Connect entries:
* Only Connect: The Eco Award goes to…? (Going Green #8)
* Only Connect: Molex and the Solar powered vehicle
* Only Connect: Major positives for the connector industry – J.P Morgan
* Only Connect: Cisco on a winner with Universal Power Over Ethernet
* Only Connect: On the quality of materials
* Only Connect: Apple's new doc connector
* Only Connect: Copyright in manufacturing
* Only Connect: Apple's Thunderbolt Technology
* Only Connect: World Wide Top Cable Manufacturers
* Only Connect: Made in Britain for China (UK Manufacturing #5)
* Only Connect: The greening of electronics manufacturing (Going Green #7)
* Only Connect: On better manufacturing co-operation
* Only Connect – A small quiz on fiber optics
* Only Connect: A guide to fiber optics
* Only Connect: Product Technology – Cat 7 network cabling
* Only Connect: Carbon nanotubes – a new interconnection technology
* Only Connect: Ten things to consider when choosing a coax connector
* Only Connect: How to promote UK Manufacturing #4
* Only Connect: Renewable energy made in the UK (Going Green #5)
* Only Connect: Electronics and natural disasters
* Only Connect: A simple guide to DVI Connectors
* Only Connect: A Thunderbolt of innovation