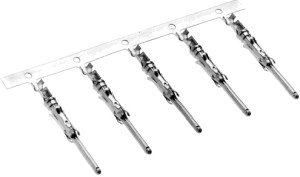 Welcome to another post in the series by Nick Locke, of Nicab Ltd, who has over 15 years experience in the electronics manufacturing industry specialising in interconnection cable assembly.
Have you ever wondered what difference the plating on connectors and contacts make, or thought there must be a reason that they have different levels of plating but never understood why?
 
If you have then these questions often go unanswered, however help is at hand. Tyco have produced a series of in-depth technical reports and this week I'm going to discuss tin plating.
Now at this point I have to declare that this report from Tyco is very technically in-depth and if you are willing to take the time to read the document you will be rewarded with a lot of information that will help you to understand the technicalities involved.
Many non technical people working in the industry are given little technical information at this level. However, I firmly believe in not only education but self-education. Don't wait to be sent on a training course – go out there and look for the information that will make you understand technical differences and most importantly understand how to choose the best products for the job.
Happy reading! Here is the link:
http://www.te.com/customersupport/productcompliance/pdf/503_1012_Tin_Plating_at_TycoElectronics.pdf
PS. While you're there why not check out some of the other technical info. It's really not that hard to understand you just need to believe that you can.
Previous Only Connect entries:
* Only Connect: Marketing to the electronics manufacturing industry
* Going Green #10 – electronics sections
* Only Connect: New product design – InfiniBand CXP 12x QDR standard
* Only Connect: HDMI Connections a simple guide
* Only Connect: New investment in the motor industry's high-end
* Only Connect: My personal connector top ten
* Only Connet: Marine manufacturing and growth
* Only Connect: The RS Connector zone
* Only Connect: The Eco Award goes to…? (Going Green #8)
* Only Connect: Molex and the Solar powered vehicle
* Only Connect: Major positives for the connector industry – J.P Morgan
* Only Connect: Cisco on a winner with Universal Power Over Ethernet
* Only Connect: On the quality of materials