Welcome to another post in the series by Nick Locke, of Nicab Ltd, who has over 15 years experience in the electronics manufacturing industry specialising in interconnection cable assembly.
Thanks to our friends at Bishop & Associates Inc we  bring you the top 10 industrial connector manufacturers.
According to Bishop & Associates, over the past decade, the world industrial production has grown quite strongly. Despite the dramatic collapse in 2008-2009, we've seen exceptional recovery in 2010.
Obviously, this is such high-level data that it is not very useful when we want to study niche markets for niche applications in the industrial market for connectors.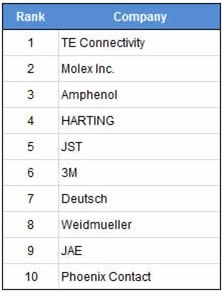 It provides a general trend and each niche has to be researched individually in order to draw conclusions about its attractiveness. Additionally, this data is not very useful if we want to know what the future brings, or even what we can expect in the next five years.
For this we need to look at the global economic growth prospects, including the above-mentioned growth prospects for each niche within the large and diversified industrial market.
This data at least shows again a surprise as I did expect to see other manufacturers in there.  A great example of how to not assume you know your market until you have seen the true figures.
Visit the Bishop & Assocviates website >>
Previous Only Connect entries:
* Only Connect: On Far-East sub-contract manufacturing
* Only Connect: Going Green #11 – plastic packaging
* Only Connect: Top ten connector manufacturers
* Only Connect: On good use of multimedia
* Only Connect: On innovation in Electronics
* Only Connect: On new technology (II)
* Only Connect: On new technology
* Only Connect: Only Connect: On branded manufacturers using multimedia
* Only Connect: Tin plating on contacts
* Only Connect: Marketing to the electronics manufacturing industry
* Going Green #10 – electronics sections
* Only Connect: New product design – InfiniBand CXP 12x QDR standard