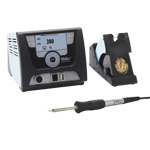 Welcome to another post in the series by Nick Locke, of Nicab Ltd, who has over 15 years experience in the electronics manufacturing industry specialising in interconnection cable assembly.
As an end of term edition of my Blog I am going to give you my list to Santa for tooling for my workshop…  And some of my personal favourite video channels from YouTube.
So here it is Santa, these are the tools I would like in my workshop!
1    Schleuniger, Crimp centre 67 Auto Cut, Strip & Crimp Machine (Oh yeah!)
2    Press Master Embla Cut & Crimp Tool
3    Cirris easy-wire Tester – The Big Daddy.
4    Mini Crimp Applicators
5    Weller WX1012 Soldering Station (pictured)
6    Quick 100-4C Solder pot
7    Chip Quik Flux, it makes life so easy!
8    Cyclops Cable Stripper
9    Purex, 200 Digital Fume Extractor
10    Universal Hand Crimp tool – an all round good egg to have in your toolbox! 
Here are my favourite videos that are all about electronics.  I dare you to watch and tell me that you don't get addicted!
Happy viewing and I will be back in the New Year.  I want to take this opportunity to thank you for reading these Only Connect blog posts and I wish you the very best for 2012.
Previous Only Connect entries:
* Only Connect: NASA-standard quality
* Only Connect: Requirements & Acceptance for Cable & Wire Harness Assemblies
* Only Connect: CCA Conductors in Ethernet Cables
* Only Connect: Good design and the IEC Connector
* Only Connect: Identifying greener manufacturers (Going Green #9)
* Only Connect: New product design – InfiniBand CXP 12x QDR standard
* Only Connect: HDMI Connections a simple guide
* Only Connect: New investment in the motor industry's high-end
* Only Connect: My personal connector top ten
* Only Connet: Marine manufacturing and growth
* Only Connect: The RS Connector zone
* Only Connect: The Eco Award goes to…? (Going Green #8)
* Only Connect: Molex and the Solar powered vehicle
* Only Connect: Major positives for the connector industry – J.P Morgan
* Only Connect: Cisco on a winner with Universal Power Over Ethernet