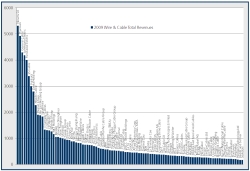 Have you ever wondered who the top selling cable manufacturer in the world is?  Well, wonder no more as I have a definitive list of top selling cable manufacturers, and let me tell you I was as surprised as you will be.
Reading through the list makes you realise how much hype manufactures put out and how little it reflects the volume of cable they sell. However, it's worth noting that some of the manufacturers you will never have heard of. This is because these manufactures are making the cables for well brands.
For example, when you buy a product and it comes with say USB or Audio cables, it's these little known manufacturers quietly making them in the millions, therefore selling a tonne of cable.
I hope you find this as interesting as I did!
View the graph >> (PDF)
Previous Only Connect entries:
* Only Connect: Made in Britain for China (UK Manufacturing #5)
* Only Connect: The greening of electronics manufacturing (Going Green #7)
* Only Connect: On better manufacturing co-operation
* Only Connect – A small quiz on fiber optics
* Only Connect: A guide to fiber optics
* Only Connect: Product Technology – Cat 7 network cabling
* Only Connect: Carbon nanotubes – a new interconnection technology
* Only Connect: Ten things to consider when choosing a coax connector
* Only Connect: How to promote UK Manufacturing #4
* Only Connect: Renewable energy made in the UK (Going Green #5)
* Only Connect: Electronics and natural disasters
* Only Connect: A simple guide to DVI Connectors
* Only Connect: A Thunderbolt of innovation
* Only Connect: The golden principle of good design
* Only Connect: Common fiber connectors – a guide
* Only Connect: Product innovation – mixing signal
* Only Connect: IPC versus Greenpeace electronics scorecard
* Only Connect: Product innovation from Space
* Only Connect: Apple's MagSafe connector makes sense
* Only Connect: Coaxial connections guide
* Only Connect: Eco-gift for Christmas (Going Green #4)