Costs, and not just performance, may be the driving factor behind the uptake of silicon-on-insulator, according to an interesting piece by Richard Wilson on Electronics Weekly, where he asks Is silicon-on-insulator technology mainstream?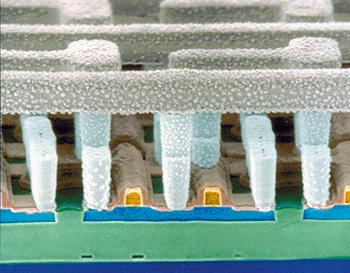 SOI on a chip from IBM Microprocessor developer ARM is quickly establishing itself as the core provider of libraries to the semiconductor industry, and has recently signed a deal with SoI wafer provider Soitec, and this week bought SoI firm Soisic which develops standard cell libraries, embedded SRAM memory compilers and I/Os. The article points out that one of the really interesting things about SoI is that it can reduce manufacturing costs, rather than increase them as is the received wisdom:
According to a report by Semico Research, SoI as a substrate can reduce the cost of ownership of some silicon by up to 40 per cent.
This is leading several firms to adopt SoI:
… the number of firms adopting the technology is steadily growing. AMD and IBM have already made the switch for specific processors, while Freescale, Renesas and Atmel are also SoI adoptors.
As production capacity of raw wafers slowly increases, (Soitec is constructing a 300mm fab in Singapore) then expect more and more companies to start switching to SoI for cost reasons – not just performance.