Follow up calls to the company made today by Electronic News to see if DiNardo left on his own will or was asked to leave were answered with "no comment" by Intersil. "We're not really commenting on the reason he left," a spokeswoman for the company said.
On the subject of redundancies, UK PR agency Publitek reports that Dave Bursky has been laid off by CMP. Dave, semiconductor editor at EETimes, had only been with CMP for eight months, after about 30 years at Penton – not such a good move after all. Cambridge in the UK is another loser this week, as Intel announces it is closing its optical and wireless design centre there. Another chapter in Intel's phased withdrawal from the comms market which has cost it so dear. Thanks to the Inquirer for that story. Back to the winners, and there's a nice story from our friends at New Electronics on the winner of the Galileo GPS competition, with UK firm Genesys Consultancy winning the 2006 European Galileo Masters Competition, beating more than 200 submissions from across Europe.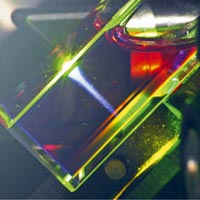 Finally, an article on PhysLink hints at increased efficiency of solar cells, by making better use of the lower energy light at the red to green end of the spectrum. Researchers at the Max Planck Institute for Polymer Research in Mainz and at the Sony Materials Science Laboratory in Stuttgart managed to combine photons to shorten their wavelength and hence increase their energy. The image shows green light being converted to blue by passing it through a pair of substances in solution, platinum octaethyl porphyrin and diphenylan-thracene. Wow.