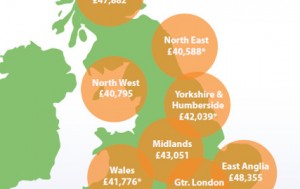 As its name suggests, it is a look at some of the regional variations to be found. We were very glad to get more than one thousand UK respondents, and this let us drill down in more geographic detail with some reliability…
Richard Wilson begins:
Consistently increasing salary levels across the country is a reflection of the increase in business confidence in the electronics sector in the last 12 months, with salaries in the industry are rising at above the annual rate of inflation.

However, the survey indicates definite regional variations in average salary levels. Some regional differences in salary have reduced in the last three years, but some have widened.