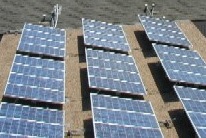 Welcome again to the wonderful but sometimes weird world of wireless comms, written by Joel Young, CTO of Digi International
See also:
Weird & Wireless: Adding wind power to your home
What kind of impact can I get by adding solar power to my home?
Last week I set off to try to look at how I could self generate a good chunk of the electric power for my house. This is part 2 of a two part blog on green power. Why not solar?
As a reminder, my house sits on the top of a hill with a moderate line to the southern and western skies and uses on average about 24,000 kWh per year. At an average rate of 10.5 cents per kWh, electricity costs me over $2,500 per year. Like most, the usage goes way up during the summer months.
Further, like its wind counterpart, there appears to be up to a 30% tax credit for solar installations as well. But unlike the wind, it appears that you can grossly overpay for little capacity and still potentially get the full credit.I admit I haven't figured out how that all works yet. In addition, like wind, it appears that my local utility may also provide another 20% or so credit.And of course, with the right electronics, the solar system ties to grid, obviating the need to get a bunch of batteries or charge controllers. So if you don't generate enough power for your home, you can still buy some from the utility and if you make too much you can generally sell the surplus back to the utility.
The equation for solar is primarily surface area and sunlight – the two don't mix very well because if you want a lot of power, you need to have a large surface area that maximizes sunlight.
The general rule of thumb with current solar panel technology is 15 watts of peak capacity per square foot at a cost of $6 per watt – notice the focus on the word peak. The sun actually has energy of about 95 watts per square foot, but conventional off the shelf solar technology is about 16% efficient. In the hinterlands of the northern hemisphere, the best hope for sun light is a roof angling toward the south, specifically at an angle close to your latitude.
The second best is the east and west and there is no hope for a roof that faces to the north. Of course the ideal is a panel that moves with the sun. This is popular for large flat areas, but they tend not to be very practical on our sloped roof tops.
In order to account for the movement of the sun as well a periodic cloud cover, we use a conversion factor.
In Minnesota, the conversion factor for west facing panels tilted at 30 degrees is 12.7% and for south facing panels tilted at 30 degrees is 16.4%. This conversion factor of 16.4% means that a 1 kilowatt peak capacity panel, in place for a year (8,760 hours) would generate 1,432 kilowatt-hours of energy (16.4% of 8,760).
Of course this varies as the seasons change and is only an approximate value based on historic cloud cover for different geographic regions.
The following table illustrates the energy output of the same 1 kilowatt panel by month.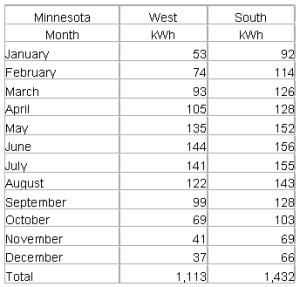 For my own roof, I identified a 15 x 15 spot of south facing roof and a 25 x 10 spot of west facing roof for a total of 475 square feet and 7,125 watts of peak capacity.
Next comes the maths. Using the values from above, the 250 square feet of west facing panels (3.75 kilowatts capacity) will generate about 4,175 kWh and the 225 square feet of south facing panels (3.375 kilowatts capacity) will generate about 4,825 kWh, netting a total annual energy of 9000 kWh – 38% of my power needs.
After the 30% tax credit, the original investment of $42,750 is reduced to $29,925, a payback period of about 32 years. Ugh! Of course, if you live in Phoenix, that south facing conversion factor goes to 21% because of more sun light and a more consistent sun arc.
If you add sun tracking into the mix, the total power for the south facing panels goes up by about 40%, but adds more cost.
Joel Young, VP of Research and Development and CTO at Digi International, has more than 22 years of experience in developing and managing data and voice communications. He joined Digi International in June 2000 and in his current role he is responsible for research and development of all of Digi's core products.
Prior to joining Digi, Joel was VP of Sales & Marketing at Transcrypt International where he was responsible for sales, marketing, and product development for all information security products. During his tenure at Transcrypt, he also served as VP of Product Development and VP of Engineering where he was responsible for engineering, research and product development for wireless communications products, cellular telephony, wireline telephony and land mobile radio, data security and specialized digital radio products.
He also served as District Manager for AT&T Business Communications Services where he was responsible for the creation and implementation of voice processing and network database strategies, including deploying new voice processing platforms into the AT&T switched network for private network and other outbound calling services.