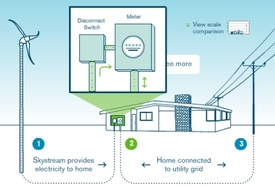 Contrary to what I thought going into it, I've discovered that it's not yet all that easy or cost effective to be really green, at least when it comes to being electrically self-sufficient (at least in my neighborhood).
The past few weeks I set off to try to look at how I could self generate a good chunk of the electric power for my house. This is part one of a two part blog on green power.
Why not wind? My house sits on the top of a hill with, what I've thought was, typically a steady breeze. Now it turns out that my house uses on average about 24,000 kWh per year. At an average rate of 10.5 cents per kWh, electricity costs me over $2,500 per year.