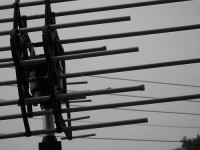 For me there has always been something magical about antennas. Unfortunately, I never really did all that well in my antenna theory classes in school and now that I'm a bit wiser, I realize it would take hundreds of thousands of words to do antennas justice.
But, I'm not usually one to back away from a challenge, so let's see how far we get in a few hundred words.
First, remember that the job of an antenna is to convert electro-magnetic waves to an electric current matching the same pattern. This current is then amplified, filtered and decoded in the radio's receiver resulting in some communication - it might be music, it might be data, it might be voice.