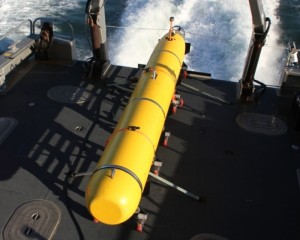 I was sort of hoping it was one of the amazing beasts that comes out of the the UK National Oceanographic Centre in Southampton – called Autosubs, some of which can function at 6km depth.
However, it looks like it is a – I am sure equally worthy – Bluefin 21 from Bluefin Robotocs in Massachusetts – founded by engineers from the MIT.
Purely scraped from the website and edited a bit, here is the submarine in a nutshell: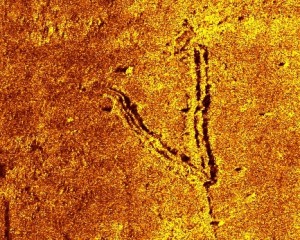 Optional 455 kHz side scan sonar provides 10cm resolution along track and a 7.5cm resolution across track out to 75m, and up to 150m with reduced resolution.
Self-contained inertial navigation plus compass for <0.5% error
Diameter
53cm
Length
4.93m
Dry weight
750kg
Depth Rating
4.5km
Endurance
25hr at 3knots with standard payload
Max speed
4.5knots
Energy
13.5kWh Li-po, pressure-tolerant
Propulsion
Steerable ducted thruster
Navigation
Inertial ≤ 0.1%
Antenna
GPS, RF, Iridium
Communications
RF, Iridium, acoustic.
Ethernet via cable out of water
Self-protection
Independently powered fault and leak detection,
drop-weight increases standard 7.3kg buoyancy,
acoustic transponder, light strobe, RDF and Iridium.
Software
GUI-based operator tools
Data
4Gbyte flash drive for vehicle data
+ payload storage
Payload options
EdgeTech 2200-M 120/410kHz side scan sonar
EdgeTech 230/850kHz dynamically focused
EdgeTech DW-216 sub-bottom profiler
Reson 7125 400kHz multi-beam echosounder