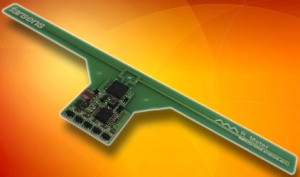 Meanwhile, electromagnetic battery-free RFID has popped up – there is a mini-backgrounder on this page from Sky RFID.
Actually, I do temember an amazing team of guys from RSRE in Malvern (I think) who were tracking bees by attaching a tiny dipole to each. The dipole had a diode in the middle and either doubled or halved (I can't remember which) the frequency of the radar pulse they were hit with, emabling the return to be tracked – it really proved that they fly in a dead straignt line. Bees were a test bed – the eventual aim was to track tsetse flies.
Back to the commercial RFID.
The photo is of a photodetecting electromagnetic RFID tag from Farsens in Spain, suitable for used with EPC C1G2 readers (I think: 'electronic product code, class 1, generation 2).
It has a 96bit EPC number, 32bit tag ID and a password protected 'kill' (permanent disable) command.
Range is up to 1.5m from three different sizes, all made on pcb.
According to the maker, these are usually embedded in sealed places where exposure to light is scarce, and where something needs to be done if the thing the tag is attached to gets exposed.
Operating is -30 to +85°C, and they can be sealed to IP67 or 68.
As there is no battery, said Farsens, permanent embedding embedding in things including concrete is possible.
Eval kits are available.