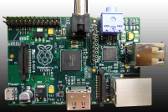 …Let's be honest – I really want a system that plays Radio 4 or Radio 4 Extra in each room, with an option for music when the Moral Maze is hogging one and Handcock is hogging the other. .
Anyway, I realise this isn't difficult so far, but I would also like the ability to control the channel and volume from any particular room, and see a menu of music from any room.
Sonos does such equipment, but it is rather too expensive.
I was starting to play with my Raspberry Pi this weekend, and realised that:
One Raspberry Pi per room, with some computer speakers plugged in and a wireless dongle, is all the hardware necessary to do most of what I want.
Adding a mouse and a third-hand DVI LCD, would be enough hardware to do all the rest.
Sadly, I have no chance of writing the software.
Oh well.
And I do read that analogue audio from the Raspberry Pi is not too wonderful – although it is, after all, an educational tool and not something designed for me to fullfil my audio dreams with.
That said, I do also read that audio from a USB DAC dongle can be good.