I have always been a great fan of the 4000 CMOS series, and its 74HC derivatives.
So when an engineer friend of mine was mulling over options for a five minute delay circuit, I chipped in that I thought the 4060 14-stage ripple counter and oscillator should be able to do it.
But try as I might, I couldn't think of a way to wire it up to act as any kind of monostable without additional components.
Can you do it?
Or with only a few external components?
The circuit is battery powered, so has to have minimal power consumption when timed out, although it can draw a milliamp or so when active.
There are many other circuits that could do it, but the damp application environment rules out using a single long time constant RC, and a dislike of testing code means no microcontroller – even if it has only got a few pins.
Somewhat later………….
Paul replied (below) with a cunning one diode answer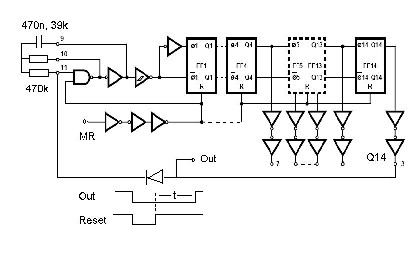 I did mess around with his values a bit because, I think, the equation on that website should have RC in the denominator.
I chose a biggish capacitor to keep the timing resistor low and minimise the effect of damp-induced leakage.
As Paul points out, the only static consumption is through the series combination of 39k and 470k – about 8µA at 5V.
Neat
There are a whole bunch of mono, bi and n-stables on this blog and they were mostly hyperlinked until some IT changes at EW disconnected them all. As I can't face putting all the links back in the right places, here is a list instead.
A 74HC74 hysteresis mystery
Hysteresis mystery solved, probably
Two leds for one
And now the pcb
Simple circuit selects LEDs? – a tri-stable
More push button bistables
A 74HC4060 monostable?
Thoughts on another EEVblog – a power on-off bistable