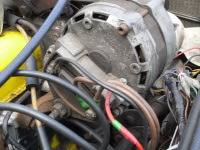 I was asked to have a look at a car that was not charging properly yesterday.
It is a kit car based on a Renault 6.
When I measured the battery, it was charging at about 13.8V – with and without the lights on. This is a bit on the low side for a car, but acceptable.
As the owner said it had not been charging at all, I thought I would pull the alternator brushes, just in case they were worn.
So we took the thing off, a SEV Marchal unit, and dismantled the back end where the brushes normally are.
No brushes. 
There didn't seem to be much room at the front end for brushes, but they had to be there.
So with much effort we got the pulley off and dismantled the front part.
Still no brushes.
I had an I-must-be-going-mad moment, then noticed that there was something stationary inside the rotor.
A brushless car alternator?
I had never heard of such a thing.
But it was.
The three-phase output stator is around the outside – as with all the alternators I have ever come across.
And the rotor is within this, but the claw poles only extend a little way in from each end, allowing the field coil to be supported from the external stator half way down the machine.
What a neat design. With nothing to wear except the bearings.
I am sure there must be disadvantages, or all car alternators would be made this way.
Suspicion is now on the external electromechanical regulator.
Anyone know of an external electronic regulator I could bolt on instead?
The field coil is grounded at one end, and therefore needs a positive feed.
'Alice'
Reply below, or directly to alice@electronicsweekly.com