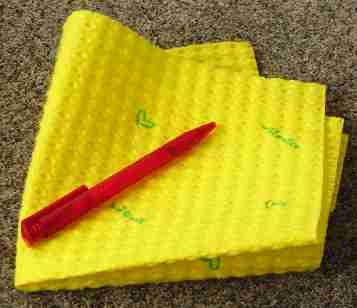 When I used to go backpacking, I would put all sorts of cloths in my rucksack.
There would be at least: a towel, a flannel, something to wipe mud off the groundsheet, and something to wash up with. 
Over the years, I just managed to cut down the towel size to save space.
But since a foray into the kitchen department of a supermarket, I have reduced the camping cloth count to one.
Some genius somewhere, I know not who, when or where, invented these little (about 40 x 40cm) yellow kitchen cloths that seem to be capable of just about any cleaning or drying duty.
They are made of some sort of synthetic non-woven felt-like material.
When they are wet, you simply wring them out and start drying again.
Covered in mud? – rinse, wring, and almost as good as new.
And you hang it on the outside of your rucksack where it can't get all wiffy, and is available throughout the day. 
So good are they that I now use one as a towel when I go to the gym.
OK, so there are limitations – the one I cleaned my bike chain with never really recovered, and I fatty stuff is hard to wash out properly.
Some of the cheaper ones soon develop holes – The Vileda Pick Up Pockets APC (shoot the marketing department Vileda) is the most durable I have sound so far.
High performance for less than a quid.
'Alice'
If you can answer this, respond below, or to alice@electronicsweekly.