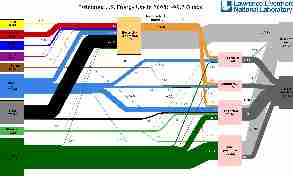 In the same way that Harry Beck's 1931 Tube map simplified navigating the London Underground, the Lawrence Livermore National Laboratory has just released a rather interesting chart that summarises US energy consumption.
Figures are in 'Quads' – quadrillion (1015) BTUs – petaBTU if you like.
A quad is about 1kJ, or 300mWh. (1BTU = 1.055kJ = 0.000293kWh)
So in 2008, the US consumed 99.2 quads or 104exaJ.
I would quite like to see a similar chart for UK energy.
My only disappointment is that the size of the boxes is only a bit dependent on the value they contain – proportional areas, or all the same, would be better IMHO.
The chart bought one thing home to me and, delivered a few surprises.
It shows that the US really is an oil-fed nation (and I suspect the oil input to the chemical industry is not included).
I assumed that the nuclear fraction would be larger, and that natural gas would be a smaller player – and not actually more important than coal.
And geothermal seems to make quite a contribution – it is only a tiny fraction of the total, as expected, but delivers far more than solar generation, and almost as much as wind power.
'Alice'
Respond below, or to alice@electronicsweekly.com