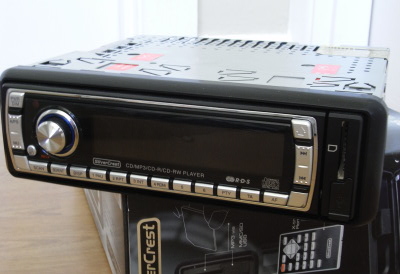 These days, I own a car.
And as I have a car, I feel the need for Radio 4 and music.
So a year or so ago I replaced the standard worn cassette-radio with a CD-radio (left).
It cost £50ish from Lidl, and its major selling point was that it also played USB sticks and SD cards.
Incidentally, the necessary fitting kits, bought from Halfords, to convert Ford's non-standard radio orifice to fit a DIN standard radio cost almost as much as the new radio – thanks Ford.
Although on Ford's side, I do like its radio rear support which takes the weight of the back of the radio by hanging it by a sliding clip from a front-to-back rail mounted above the installation slot.
Anyway, the new CD-radio was excellent. It did all the things it said it would do, and played all the things it said it would play.
 – with a handful of caveats.
A minor one is that it very occasionally had a hiccough – suddenly forgetting its presets or inexplicably starting up in CD mode when it was switched off playing the radio.
And another little problem was that a pixel or two of the OLED display decided not to work.
But the major issue for me was that most of the controls, including the radio presets, were arranged as a single row of 12 tiny identically-shaped identically-spaced buttons.
With a glance, I had no idea which was which.
Having found myself distracted by this ambiguity whilst driving, I stopped operating anything except the easy controls unless I was stationary.
Two weeks ago, Lidl had an updated version for sale – same price, same functions, vastly improved control layout.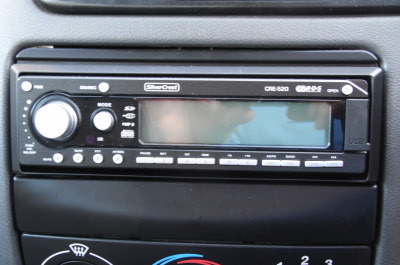 So after a couple of deep breaths, I bought one (left).
I was still wondering if I had wasted my money until I had it fitted and turned it on.
What a difference.
The thing, with its paired groups of buttons instead of an even row, is so much easier to use with a glance.
Well done Lidl for an effective interface re-design.
'Alice'
If you wish to respond: do it below, or to alice@electronicsweekly.com