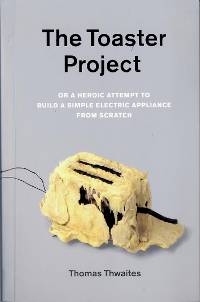 Royal School of Arts post-graduate design student Thomas Thwaites sets himself the task of building a toaster from scratch.
Right from scratch: digging up raw materials in the British Isles and making everything himself.
With almost no idea of how to do it, he starts by consulting the web and asking the experts – including the professor of mineral processing at the Royal School of Mines – who get into the spirit of the enterprise and go out of their way to help.
The book is a catalogue of his trials, tribulations, successes, and failures.
It goes into the history of making things, talks a lot about the environmental effects of mineral extraction, and is a travelogue of interesting journeys across the UK in search of stuff.
I particularly admired his can-do attitude and the iron work, loved his heroic ignorance-is-bliss abuse of a microwave oven, was interested in the eventual compromises, and despaired at his rather slapdash attitude which resulted in something more objet d'art than toaster.
The book made me:
i, worry about acidification from mining,
ii, want to visit Knoydart on the West Coast of Scotland to dig up mica, and
iii, wonder why Thwaites didn't have another go at moulding the casing.
A most enjoyable one-evening read.
'Alice'
Should you feel the need, respond to alice@electronicsweekly.com with 'toaster' in the title.
Please don't respond below as our spam blocking system doesn't work and the inbox is overwhelmed by all kinds of generous offers from all kinds of rather annoying people.
No email addresses are collected for marketing (or any other) purposes from responses to this blog. I will keep it that way for as long as possible.