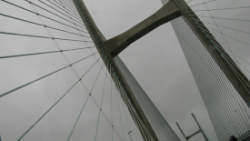 For example, between junctions 11 (A320) and 12 (M3) on the M25 is a brutal-looking cable stay bridge that carries the Chertsey to Virginia Water railway.
It is a magnificent thing, all concrete and steel. 
It looks like the one that got out of the civil engineers design office before the architectural consultant could stop it. 
I can imagine the instruction: "Sod what it looks like, just make it STRONG".
Then there is the Royal Albert Bridge across the Taymar in Cornwall.
What I like about it, are those huge beautiful oval tubes. 
This thing is over 150 years old, but Brunel rejected the standard rectangular girder approach of the day and came up with a design that would not look out of place on a computer design screen today.
While I am on the subject of bridges, does anyone know why modern suspension bridge designers have moved to cable-stay designs like the Second Severn Crossing and the stunning Millau Viaduct, and away from the more traditional suspension types where the deck is strung from two long looping cables, like the old Severn Bridge (click and scroll down) and, that other Brunel design, the Clifton Suspension Bridge?
I also have a soft spot for the London Millennium Bridge  – the one that wobbled that wobbled in its first incarnation.
I realise Arup had to come up with a nice neat way to de-wobble it, but it was shut for over a year while they sorted it out.
Am I the only person who thought "just tie the middle bit to the bank with four ropes and let people use it in the mean time?
– although I assume there is a technical reason why my cunning idea would have failed.
And it never occurred to me that bridges would ever be asymmetric, but then the impressive Gateshead Millennium Bridge with its unusual way of opening appeared. 
How neat is that?
By the way, that last link, in common with the Royal Albert Bridge link, both come from a flickr page that is just teaming with rather nice photos of interestingly-engineered bridges.
Actually, there is one type of asymmetric bridge that I have admired for a long time. Although not an engineering marvel, I take my hat off to whoever originally thought up the bridges that let a canal horse cross to the other side without unhitching the rope. 
'Alice'
Respond below, or to alice@electronicsweekly. 
(Picture Second Severn Crossing by *hoodrat*, under Creative Commons Attribution Licence)