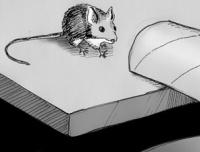 There was a drawback to thoroughly removing the nasty old glass insulation from my loft and replacing it with nice safe polyester fluff.
Rodents have moved in.
It may just be a coincidence, but when I took out the mineral wool there were only a couple of birds nests in the loft and not a sign of a mouse.
Now I hear little feet scurrying around at night, and things are starting to get chewed.
I am normally of the live-and-let-live persuasion, but not when the interloper might eat the insulation off my cables and burn the house down.
So the critter or critters must go.
At this point I can hear voices shouting 'poison the buggers' and, believe me, I have contemplated the little boxes that cost only £5 and kill up to 50 mice.
But I squeamishly feel that my furry invaders should have at least some chance of survival.
So I have borrowed a 'humane' mouse trap and put it down this morning.
And await results.
In the mean time I asked Mr Google where I could buy some more, and he delivered several marvellous websites devoted to inventing humane mousetraps.
Why didn't I think of inventing my own?
I blame lack of imagination, and ignorance of mouse dynamics.
Highlights amongst the mouse catching sites were:
This one which has several great ideas from a brain storming session, and the crew involved has even tested and timed two of them using pet mice.
Watching the videos caused a revelation, I had no idea mice were so inquisitive and would be caught so quickly. 
I was assuming a multi-day wait.
This one looks fairly tricky to set, but can be extended to rats if necessary.
– Hmmm, hope it isn't rats in the loft.
And the one I like most so far, and may be trying tonight, needs only a toilet roll centre and some bait.
How elegant
'Alice'
Respond below, or to alice@electronicsweekly.com