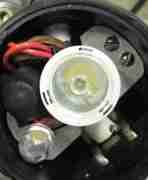 Early last year I took a look at a Cree led – Ledil lens combination and mentioned that it looked like a good basis for a caving lamp.
I also said that I would hesitate to make such a lamp in view of the consequences should it break deep underground.
At the time, a real caver responded
 – a caver who makes caving lights, no less.
And then I lost the e-mail.
Luckily, my personal Tree God* intervened just before Christmas,
and here is that email:
"You mention being asked to build a caving lamp, and declining as it is a 'life-critical' device.
I find this a bit strange as other postings have you building bike lamps: hurtling down a hill when your bike light fails might be more hazardous, cavers are forced to travel at a much more sedate pace.
If your friend as a very deep pocket, such things are available on the market, eg from Scurion, who do a version using the P7.
For the more normally impecunious,  it is perfectly possible to build caving lamps, I have been doing this for about 25 years with varying technology and varying success.
I have recently built several lamps loosely bases on a design by Mike Miles. 
This results in the best caving lamp I have ever used, although unlike Mr Miles I am now using helmet mounted lithium cells.
Being an amateur, I buy my LED's, drivers, and collimators from Kaidomain and Dealextreme.
The electronics do not inspire confidence, but I have not had any failures in use yet.
All the best with the bike light!"
Jack
Here is Jack's light – based on the standard Oldham miners headset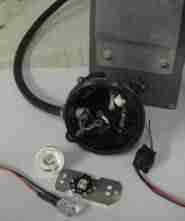 These are the components before assembly.
The diecast box houses a 6 volt Yuasa NP4-6 sealed lead-acid battery.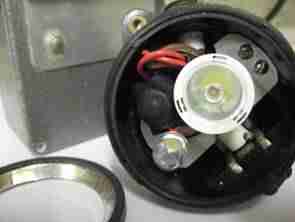 And below is the finished lamp.
The ring is the remains of the original reflector assembly, cut off to support the sealing ring.
Not shown is the glass and bezel.
You can see a 10mm led in there – more of this later
Mr Miles, in the design on his website, uses a coin as a heat spreader behind the led, which would not seem flat enough for efficient heat transfer whereas Jack uses aluminium (by the look of it) and superglues the LED on.
For bike lights, I tend to use leds mounted on 'star' board, and either bolt them down over heatsink compound, or stick them with Arctic Alumina Thermal Adhesive.
Jack has since got back to EW with an update, including another rather useful link.
"The Mike Miles design generated a lot of interest round our Club, and there are several variants being used on a regular basis.
The Dealextreme and Kaidomain electronics are very cheap and cheerful, needing to be protected from moisture, not so easy in a caving environment.
One of the lamps I built for a friend failed after water got into the headshell and damaged the electronics.
Fortunately I had added a reserve light, a 10mm, 80mA LED fed via a resistor (visible in the photos above) and I have improved the waterproofing of the electronics.
Having been asked by several of my non-technical caving friends about building lamps, I am now heading down the route of developing simpler designs, easier to assemble and hopefully more robust.
In this, I have been inspired by finding Chris Snell's site."
Jack
I am still not brave enough to try to make a caving lamp, but if I did, I would definitely follow Jack's example and build in a separate light source as back-up.
I think I would stay away from Li-ion cells unless I knew a lot more about protecting them from mechanical shock, just in case they went off.
UPDATE – It looks like there is now a commercial upgrade available that is similar to the Miles design – called Retro 2
'Alice'
* Tree God. I heard a woman on the radio who talks to angels, so I thought I would invent a divine helper too.
Respond below, or to alice@electronicsweekly.com
No email addresses are collected for marketing purposes from replies to this blog, and I intend to keep it that way as long as possible.