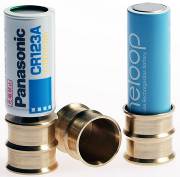 Those clever guy's at Zebralight in China have come up with a neat way of making an LED torch compatible with both CR123 and AA cells.
Electrically, it just means a wider input voltage range – probably 0.9-4.0V.
But mechanically this has previously meant screw-on extension tubes to allow for the longer AA cell – maybe with a narrowed interior to deal with the AA's slimmer profile.
The solution in Zebralight's SC80 torch is an internal adapter that fits in one of two different ways, and allows for both the length and diameter difference.
http://www.zebralight.com/SC80c-AACR123A-Flashlight-85-CRI_p_85.html
It is a bit like those Presta-Schrader adapters in the end of bicycle pumps.
Looking for disadvantages, I surmise that the whole torch no longer gets shorter when the dumpy CR123 is fitted, and an additional insulating sleeve would be required if a switch was needed at the tail end of the torch.
'Alice'
Please don't respond below as our spam blocking system doesn't work and the inbox is overwhelmed by all kinds of generous offers from a multitude of rather annoying people.
Should you feel the need, respond to alice@electronicsweekly.com with 'Adapter' in the title.
No email addresses are collected for marketing (or any other) purposes from responses to this blog. I will keep it that way for as long as possible.